Woman's jail sentence for attack on David Baker increased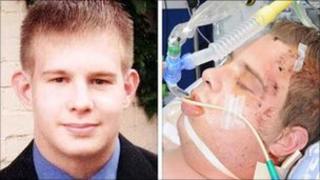 A woman jailed for an attack in Southampton that left a cyclist with life-changing brain injuries has had her sentence almost doubled.
David Baker, 24, was in a coma for almost two weeks after he was attacked on Central Bridge on 8 June 2010.
Stephanie Hill, 20, of Lydgate Road, was jailed for four years in July.
But three senior judges sitting at the Court of Appeal in London said the term was "unduly lenient" and increased it to seven years.
The Attorney General, Dominic Grieve QC, brought the case back to court.
Hill, who had a long history of trouble with the police for violent offences, was charged alongside John Smith, 27.
Lifelong injuries
Smith, from Botley, was given an indeterminate sentence and told he must serve at least four years. He also had previous convictions for violence.
The judge at their trial at Southampton Crown Court described the attack as cowardly and unprovoked.
Described as a timid, non-violent person, Mr Baker was on his way home from friends when he was set upon by four people high on drink and drugs, the court heard.
He was pushed off his bike and repeatedly kicked in the head and face and a beer bottle was smashed on his head.
Hill kicked him in the head and had blood on her boots while Smith was described as the main aggressor.
'Playful' mood
Eventually, the attack appeared to come to an end, but Smith returned to resume it, defying Hill's warning for him to stop before he killed the victim.
Afterwards, the group were seen walking away in a "playful" mood, without any concern for Mr Baker's welfare, Lord Justice Pitchford, one of the appeal judges, said.
Students in nearby accommodation who witnessed the attack went to Mr Baker's aid, calling for an ambulance.
Mr Baker can no longer run or cycle, and can only walk outside with the aid of a crutch.
Lawyers representing the Attorney General argued before Lord Justice Pitchford, Mr Justice Andrew Smith and Mr Justice Popplewell that Hill's sentence was not tough enough.
They said the attack was aggravated by the life-threatening and permanent injuries, the group element, the lack of any provocation and the sustained nature of the attack.
Hill's past showed she was dangerous and included an attack in which she battered a complete stranger over the head, knocking him into a river, they said.
Her lawyers said mitigating features - the fact that she had called on Smith to stop the attack and that she played a subsidiary role - justified the four years jail term.
Lord Justice Pitchford said: "In our view, balancing those considerations, it was not possible for the Recorder reasonably to have imposed a custodial period of less than seven years' custody.
"In our judgment, this sentence was unduly lenient."