Queen Alexandra Hospital-pioneered cancer procedure 'may save NHS money'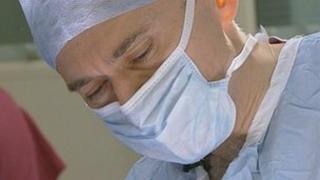 A new operating procedure for breast cancer patients pioneered at a Portsmouth hospital could reduce the need for additional surgery.
During a two-hour operation to remove a tumour, tissue from the underarm lymph nodes is also tested for cancer.
If the result is positive for cancer, surgeons at the Queen Alexandra (QA) Hospital also remove the nodes.
NHS figures show if the procedure was used in all hospitals it could save £5m a year and prevent 11,000 operations.
The hospital has already treated about 1,200 women using the new procedure.
Four other UK hospitals - in Sunderland, Morecambe, Staffordshire and the Princess Alexandra Hospital in Harlow, Essex - have now also adopted the procedure as part of a pilot with the QA Hospital as their mentor site.
Constantinos Yiangou, consultant breast surgeon at the QA, said medical staff from those trusts had come to Portsmouth to find out about the procedure and were now implementing it.
Three-week wait
Patients who had the test done at the same time as their breast cancer operation spent five fewer days in hospital, which is said to equate to reduction of 24,000 bed days a year across the NHS.
The results of the test, which can show the presence of a tumour as small as 0.2mm in size, usually take up to three weeks but, by carrying out the test during the operation, surgeons receive a diagnosis within 30 to 45 minutes.
Dr Yiangou said: "We are able to deal with it more quickly than if we waited for the results following a traditional breast cancer operation."
Patients normally have a two or three-week wait for their results and then a further wait for more surgery.
About 11,000 breast cancer patients a year need a second operation to remove part of their lymph gland because the cancer cells have spread.
Sally Chisholm, chief executive of NHS Technology Adoption Centre, said the pilot was designed to benefit other NHS trusts "so that they can too realise the cost savings but, most importantly, patient benefit" of the procedure.
She added: "The complexity of the NHS can make the implementation of technology, even those with proven patient benefit, difficult.
"At face value it can seem incredibly simple; swap one thing for another. Yet in practice the implementation of the breast lymph assay requires departments and staff to work collaboratively to redesign how they deliver better care, procurement and decommissioning are important factors too."