Fly-tipping causes Southampton sewer to burst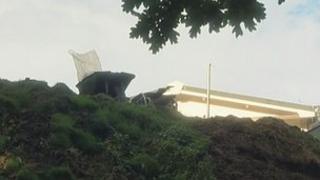 A 40ft (12m) high mound of fly-tipped waste has caused part of a sewage pipe to burst in Southampton.
Residents in Sholing say the garden in Botany Bay Road, directly above the pipe, has been used as an illegal dumping site for the past 30 years.
Southern Water now plans to spend £500,000 diverting the partly collapsed sewer underneath a nearby footpath.
The BBC approached the owners of the property where the dumping has taken place but they declined to comment.
The family who live at the site have now been served with a stop notice but the council is not planning to prosecute them.
Stream polluted
Councillor Daniel Fitzhenry, from Southampton City Council, said the problem had been allowed to drag on for years but the authority was now committed to taking legal action if the problem did not stop.
He said they had made it "absolutely clear - any further action and we will go for legal action over and above the stop notice that's in place at the moment".
The problem was initially discovered two years ago when the stream beside the property became polluted with sewage.
Southern Water said hundreds of tonnes of hardcore materials, tarmac, rubble and other waste on the site was putting pressure on the underground system, which serves about 16,000 homes.
Mark Thompson, from Southern Water, said that at times of heavy rain the problem mean there was a risk "of diluted sewage coming out from manholes".
The new pipe should be completed by March next year.