New Forest WWII history project given £551,000 lottery money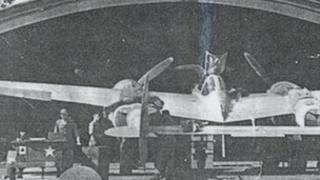 An archaeological project to record life in the New Forest during World War II has been given a £551,000 lottery grant.
The "New Forest remembers - untold stories of World War II" project involves collating information, memories, photographs and artefacts.
Surveys from the air using infrared lights, mapping and fieldwork on WWII sites will also be carried out.
The national park authority is recruiting volunteers for the project.
Mulberry Harbours
It will focus on collecting memories of military personnel, residents, evacuees and prisoners of war who were based in the forest between 1939 and 1945.
The New Forest had 12 airfields and the remains of the building of the Mulberry Harbours in preparation for D-Day can still be seen at Lepe beach.
Julian Johnson, chairman of the New Forest National Park Authority, said: "World War Two changed the New Forest forever.
"It played a vital role and it is important that we have an accurate picture both on the ground and through people's memories and experiences of this unprecedented period of history."
Stuart McLeod, head of the Heritage Lottery Fund in the South East, said: "The New Forest holds many clues to the stories of World War II and how it impacted on the communities in the area.
"With this grant, volunteers will not only expand their knowledge and learn lots of new skills, but it will also provide a unique record of the area for others to learn from, enjoy and be inspired by for generations to come."
The grant will cover 73% of what the project is set to cost, the authority said.