Proud Aldershot Town host Manchester United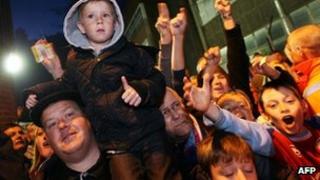 When the gates opened at the EBB Stadium for the visit of Manchester United, they unlocked a wave of emotions for many in a full house at Aldershot Town's modest home.
Nineteen years ago, the former Aldershot FC was declared bankrupt.
Soon after, with a phoenix for an emblem, Aldershot Town was born, rising from the ashes of the old club.
They had to start at the bottom of football's pyramid, but they have fought their way back.
'In my bones'
"Yes we wanted to bring football back to Aldershot, yes we wanted to get back in the Football League, which we managed to do in our 16th season, but Manchester United in the Carling Cup? No-one expected that," Graham Brookland, the club's media consultant told me.
Brookland was among a group of fans and businessmen who refused to let football die in the north Hampshire town.
Tonight, as the likes of Michael Owen, Dimitar Berbatov and Nemanja Vidic ran out of the cramped tunnel on to the field, the saviours of football in Aldershot were entitled to take a bow.
"People ask me if Aldershot Town is in my blood, and I tell them it's not, it's in my bones," said Terry Owens, who was one of the co-founders and spent a period as chairman here.
Aldershot is a military town and the club is proud of its links with the forces.
Soldiers in Afghanistan watched tonight's game.
'Financial gulf'
Packed in on the terraces, the usual hard core of about 3,000 fans was swelled by double that number, attracted by the prospect of watching one of the world's most famous football clubs.
The financial gulf in English football gets bigger - the fee United paid for Berbatov (£30m) would fund Aldershot for a decade.
The Bulgarian's goal early in the game was just what United needed, days after their mauling in the Manchester derby.
Shots fans hit back with the cry of "we're going to win 6-1".
In the end United managed a comfortable 3-0 victory, but the mere fact they were playing here on a wet Tuesday in October proves that dreams can still come true in English football.