New bat colonies found in the New Forest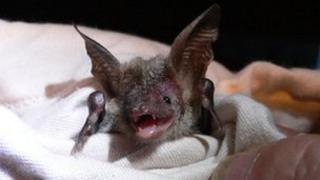 Six new colonies of rare bat species have been discovered in the New Forest.
Volunteers doing a survey found four new Bechstein's bat breeding sites and two for barbastelle bats in the national park in Hampshire.
Both species like to live in ancient woodlands and only a handful of breeding sites for either of them are known in the UK.
It is thought that 13 out of the 17 resident UK bat species can be found in the New Forest.
The National Park Authority and the Hampshire Bat Group volunteers have spent the past few years trying to help Bechstein's and barbastelle bats.
Transmitters fitted
Ian Barker, National Park Authority ecologist, said: "We know very little about Bechstein's and barbastelle bats.
"Licensed handlers have caught some of the animals to identify, measure and record them, as well as fitting them with a tiny transmitter so we can learn where they roost and forage.
"None of this harms the bats and the transmitters fall off after a couple of weeks.
"We have discovered four new colonies of Bechstein's bat and two new colonies of Barbastelle bats - which is great news for the species and for the New Forest as their presence indicates a healthy environment.
"The United Nations has designated 2011 as year of the bat and it's the perfect time to dispel lots of myths about these incredible creatures.
"Bats aren't harmful and are very good for the environment."
Mr Barker said the best places to see bats were at dusk near water, such as Eyeworth Pond near Fritham and Hatchet Pond near Beaulieu.
"However time is running out this year as the bats will be preparing to hibernate," he added.
"There are lots of ways people can help bats, which have legal protection as they are dying out at a rapid rate.
"You can put up a bat box, add insect-loving plants to your garden to attract bats, or join Hampshire Bat Group to get more involved."