Rare baby hazel dormice rescued from jaws of cat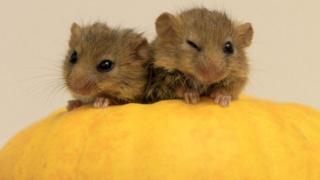 Two rare baby dormice are making a full recovery after being found close to death in the jaws of a pet cat.
Nicknamed Hansel and Gretel, the hazel dormice were two-weeks-old and weighed less than 6g (0.2oz) when they arrived at Hampshire's HART Wildlife Rescue.
The mice have now almost doubled their weight and will go to Paignton Zoo in Devon when they reach 15g (0.5oz).
The endangered siblings currently live in a small pumpkin which acts as both a secure nest and a tasty snack.
When Hansel and Gretel arrived at the centre, the rescue workers set about feeding the dormice every hour for several days.
'Berries and nuts'
Senior clinical assistant Caragh Hunter said: "We use a tiny paintbrush dipped in formula milk.
"They gradually worked up to taking about 10 drops each meal and soon began lapping from an up-turned plastic milk bottle top.
"Now they are eating solids like berries and nuts."
When they arrive at Paignton they will join a breeding programme designed to increase numbers of hazel dormice before being released into the wild.
Ms Hunter said: "There are very few of them around in Britain but we are lucky to have a few small communities around us in the south of England."
Dormice can spend up to three quarters of their life asleep.
They hibernate when food is scarce to conserve energy.
In Britain, they are mainly found in the southern counties, although they are present in a few scattered locations in the Lake District and mid-Wales.