Heathlands Cemetery memorials 'to be cleared'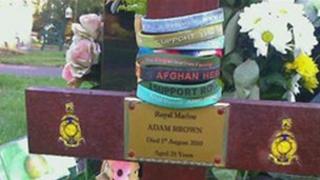 The families of those buried at a Hampshire graveyard have been asked by the council to clear elaborate memorials to loved ones.
The memorials on ninety-seven plots at Heathlands Cemetery in Yateley will be cleared and replaced with lawn.
The town council said it had decided to enforce its long-established rule that graves should be plain.
This has angered and upset some relatives who feel they have been left out of discussions.
'Little community'
David Cox's mother has been on anti-depressants since her husband died three years ago and was buried at the cemetery.
"My mum still comes up here every single day and looks after his grave, and she meets people up here and they chat," he said.
"It's like a little community.
"And now they just want to take it away, put some grass down and we just don't know why."
Yateley Town Council said it had always had strict rules as to what types of memorial were allowed on the cemetery's 1,320 graves.
From the date of burial, families have a year to adorn the whole length of the grave.
After this time only the headstone and plinth should remain, with an area, a foot-long from the headstone, on which to place flowers and ornaments.
A council spokeswoman said children's graves were not affected in this process.
Over the past few years the council believes there has been an increase in the number of elaborate grave plots.
Adrian Collett, from the council, said: "It got to a stage where the council had to act."
John Devonshire, a regular visitor to the cemetery, believes the council has its own agenda.
He said: "I think they want to lawn the cemetery so it's a lot easier for them to cut the grass. It's just about saving money."
Lawrence Smith, the town clerk, said: "That's certainly not the case. Saving money has never been an issue in this whole process."
Consultation letters
The council sent out 90 letters of consultation, of which 30 came back.
Twenty-six of those who responded said they wanted the "lawned look" to be restored.
The grave of Royal Marine Adam Brown, who was killed in service in Afghanistan last year and had asked to be buried at Heathlands, has recently been altered to comply with the new policy.
But some relatives of those buried in affected graves have said they are keen to keep things as they are.
Tony Adams, whose family member is buried at Heathlands, said: "People realise now that there are a lot of other people that feel very similar.
"Now that we've finally all met, I think we're going to go forward from here."
The council has given relatives until the beginning of November to comply with memorial regulations.
It said it would see how many people did comply before deciding what action to take.