Chandlers Ford bank robber 'had armour-piercing bullets'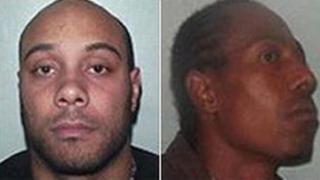 An armed robber obtained armour-piercing bullets ahead of a planned raid on a cash van outside a bank in Hampshire, an inquest has heard.
Mark Nunes, 35, and Andrew Markland, 36, from London, were shot as they held up a G4S van in Chandlers Ford in 2007.
The inquest jury in Winchester heard police had raised the threat level of the operation after learning Nunes had the ammunition and had tested the gun.
The officers were lying in wait for the robbers at the HSBC bank.
Det Chief Insp Terry Wilson, in charge of the operation, said it was believed Nunes was going to use the weapon to blast through the armour plating of the security van to force the guard to throw out more cash.
He also told the jury Nunes had bought two balaclavas.
He said surveillance had spotted Markland at a bus stop across the road from the bank, and then Nunes as a passenger in a car, but police did not move in for another two minutes because they did not have enough evidence.
'So peaceful'
Det Chief Insp Wilson of Hampshire Constabulary told the jury the plan was to arrest the gang before the robbery, but both men were shot by firearms officers after Nunes threatened a security guard with his gun.
Nunes, from Streatham, was shot first and Markland, from Brixton, was shot when he ran over and "appeared" to pick the gun up.
Det Ch Insp Wilson said he did not realise at first that the two suspects had been shot. He said he was told that officers had "engaged" them.
He said: "At that time I did not even register what that meant. I felt that two suspects had been apprehended. I walked around the corner. As I approached I saw four people around Andrew Markland. I remember looking down at his face… I looked at Mr Markland and I remember thinking, usually when you arrest a suspect they swearing or fighting, he just looked so peaceful."
The hearing continues.