Stolen Portsmouth George Medal returned to council leader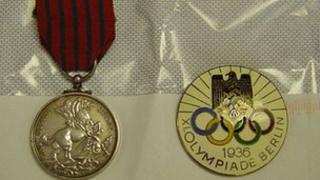 A George Medal stolen from Portsmouth's D-Day Museum has been posted through the door of the city council's leader.
The medal, along with a badge from the 1936 Berlin Olympics, was taken from a locked display case earlier this month.
The stolen George Medal was awarded to William Henry Daysh, the first person in Portsmouth to receive the civilian bravery honour.
Both items were posted through Councillor Gerald Vernon-Jackson's front door on Wednesday night.
The council leader said: "I'm really pleased that we've got them back.
"It's great that either someone decided they'd done the wrong thing and wanted to put the situation right, or that somebody found them and decided to do the right thing."
Falling debris
Both items were on loan to the museum from separate lenders and their owners have been informed of their return.
It is not yet known if they will be placed back on public display.
The George Medal was introduced in 1940 to reward courage shown by civilians during the Blitz.
Mr Daysh was a member of his workplace's air raid precautions team.
On 12 August 1940 one of their buildings was set on fire during a bombing raid, leaving a carpenter unconscious inside.
Although Mr Daysh had been wounded, he went inside the burning building to try to rescue the man, came out again to seek help, and then went back in again.
He was trapped by falling debris. Both men were rescued by a fire party.
Anyone with information about the theft has been asked to contact police.