Tribute to 1957 Blackbushe air crash victims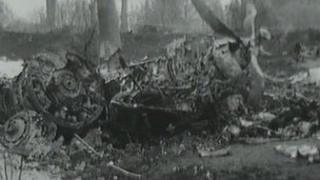 When Hugh Sheppard turned down a ticket on a flight to Malta and opted to travel by sea instead it was a decision that would save his life.
Thirty-four people died on 1 May 1957 when an Eagle Viking aircraft, on lease to the Army, crashed shortly after take-off from Blackbushe airport near Yateley in Hampshire.
Mr Sheppard's friend, who had taken up the offer instead, was killed. There was only one survivor.
Earlier a memorial plaque to remember those killed that day was unveiled at a ceremony at the airport's control tower.
On the day of the disaster 54 years ago the plane developed problems with one of its engines.
The pilot tried to turn it around and land again on the runway, but it was too late.
The aircraft came down in woodland about half a mile from the airfield, near the A30 Star Hill.
Among the men and women killed were 25 soldiers and a family with two young children.
Mr Sheppard, who now lives in Odiham, was 19 years old at the time and doing his national service.
He was preparing for deployment to Malta at a Royal Signals transit camp near Chester when he became friends with another serviceman, Mike Hemken, from Reading, Berkshire.
"We both expected to go by sea and were both looking forward to going by sea," he said, recalling the events of the spring of 1957.
"Because we'd missed a ship we were there for three weeks instead of two or three days and we got to know each other quite well.
"One day we were called in by a warrant officer who said: 'I know you've been hanging around. There is a possibility of a seat on this Viking flight going to Libya via Malta'. He offered it to either of us.
"I was so keen to go by sea that I almost interrupted him and said, 'No, no, I really want to go by sea and I was looking forward to that voyage' and the other fellow, Mike Hemken, said: 'Well, I'm very happy to fly' and it was very quickly resolved and we thought little more of it.
"And then he disappeared the next day or the day after - and disappear indeed he did.
Unaware of crash
"I didn't hear about the crash straight away because my posting on the ship came up and that was seven days to get to Malta.
"I wrote to Hemken when I was there and was surprised to have the letter returned as 'not known'.
"When I made a few inquiries, someone said: 'Didn't you know? I think he was on that plane that crashed on take off.'
"I realised of course it was true, and it's stuck with me in my memory all these years.
"Certainly it was the biggest crash that ever must have happened at Blackbushe."
Among the relatives at Wednesday's memorial ceremony were Mr Hemken's cousin Maureen D'Silva.
She said: "A very sad day that was. It was very hard, I was very fond of him.
"This has brought it all back really, but I'm glad they're doing something about it, which they should have done years ago."
Staff from the former Eagle Airways also attended the event along with soldiers from nearby Gibraltar Barracks, Minley. RAF Odiham provided a bugler for the Last Post.
The plaque was paid for through a fundraising appeal and with a contribution from Hart District Council.