Isle of Wight industrial crane in heritage rescue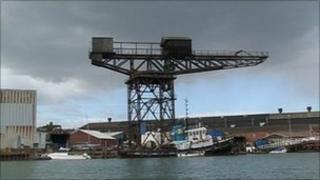 English Heritage has called for a giant Grade II listed cantilever crane on the Isle of Wight to be preserved.
The 99-year-old crane at Cowes which needs urgent repairs is on the heritage organisation's "at risk" list.
Dr Andy Brown of English Heritage said: "It's the last surviving crane of its kind in the entire country and one of only 12 on the planet."
The 150ft (50m) maritime structure lifted boilers and engines into naval ships during both world wars.
The organisation said it would provide funding for immediate work to the "hammerhead" crane as part of its Industrial Heritage at Risk campaign.
In its heyday during both world wars, about 2,000 people worked under the 80 tonne crane. It has been out of use since 2004 and is now owned by a developer.
Islander, Ed Checkley of the Cowes Hammerhead Crane Trust, a charity set up to preserve the crane said: "It's a landmark, it dominates the skyline, it was a living machine and it's the only part of the island's ship building heritage that's going to be left."
Mr Brown added: "It's a really important piece of our national engineering heritage because it was the sort of crane which allowed the British ship building industry to lead the world."
"We can't afford to just let it go to wrack and ruin and only save the castles and abbeys."