HMS Southampton leaves Portsmouth naval base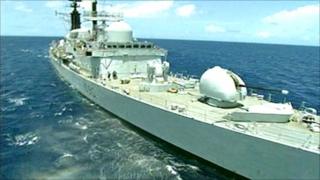 HMS Southampton has left Portsmouth naval base in Hampshire to be towed to a scrapyard in Turkey.
The second oldest type 42 destroyer was decommissioned in 2009 and sold by the Ministry of Defence along with HMS Exeter and HMS Nottingham last month.
She was deployed to the Falklands and in 2006 helped seize three-and-a-half tonnes of cocaine in the Caribbean.
In her 28-year career the Southampton clocked up almost 700,000 nautical miles on operations across the globe.
It is not known how much she was sold for.
The Navy is replacing its old Type 42s with Daring class Type 45 destroyers.
Falklands Islands conflict
The Southampton - the sixth ship to bear the name - was built at Vosper Thornycroft in its namesake city and launched on 29 January in 1979.
The vessel was commissioned into service on 31 October 1981, but its initial trials period was cut short by the Falklands Islands conflict.
The ship sailed to the region in June 1982 - a few days after the Argentine surrender - to lead the first of the peace keepers.
In 1995, it was on hand to help evacuate the population of Montserrat, when the Chances Peak volcano erupted, threatening the Caribbean island.
In February 2006, the Southampton hit the national headlines when it was used to help seize a huge drugs cache off the coast of Miami.
Together with the Royal Fleet Auxiliary tanker Grey Rover, it intercepted a vessel carrying cocaine with a street value of £350m.
Once a ship is decommissioned, HMS is traditionally removed from the ship's name.