Electronic car key fobs fail on Southampton street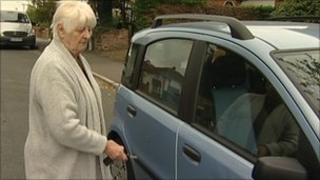 Electronic car key fobs have mysteriously stopped working along part of a Southampton street, according to residents.
On Saturday people living on Dimond Road in the Bitterne Park area found their fobs would not open their cars.
Madeleine Wentworth said: "It's really annoying, I don't like not knowing what's causing it."
It is thought the problem is being caused by interference with the radio frequencies used by the fobs.
Brian Deadman described it as "baffling" and said his key fob worked perfectly well away from Dimond Road.
Pinpoint the cause
Neighbours have speculated about the interference being caused by a mobile phone mast or the nearby Southampton International Airport.
An airport spokesperson said it had not changed any of its frequencies.
Ofcom, the government agency with responsibility for radio communications, said residents could contact them and log a complaint which they would investigate to pinpoint the cause of the interference.
A spokesman said it was likely to be due to a signal from a malfunctioning electronic device "leaking" on to the spectrum of the key fobs.
AA technical specialist Steve Evans said the motoring organisation received about 40 call-outs over key fobs not working each month in the south - usually caused by flat fob or car batteries, or radio interference.
Mr Evans said: "If it is a problem with radio interference, try getting closer to the car and then try walking around the car - the receivers are placed in different places on different cars."