Quarr Abbey monks 'thrilled' at World Monuments Watch listing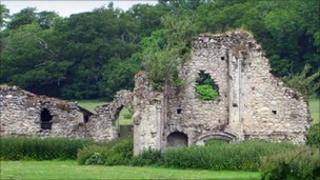 Monks at an Isle of Wight monastery say they are hopeful of saving medieval abbey ruins, after they were recognised in an international heritage survey.
The Cistercian Abbey of St Mary's at Quarr is among 67 "most at-risk" sites listed by the World Monuments Fund (WMF).
The monks say the listing will make it easier to apply for repair work grants.
The 12th Century ruins, monastic buildings and infrastructure are all in need of attention, the survey said.
The abbey was established on the north coast of the island and was closed in 1536 as part of Henry VIII's dissolution of the monasteries.
The remains of abbey sit in the grounds of a monastery which is still functioning and is home to a community of eight Benedictine monks.
'Increased awareness'
Father Luke Bell said: "We're thrilled that we've been listed.
"The advantage to us of this listing is it gives us much more credibility with the Heritage Lottery Fund.
"We're putting in for a grant of between £1.6m and £1.9m, but it will cost much more than that."
The WMF's biennial World Monuments Watch report, said: "Increased awareness about the significance of the monastic complex and the surviving spiritual life within its walls will hopefully help to garner support for the repair, maintenance, and management of the structures, as well as improve visitor facilities and public engagement."
The modern monastic buildings were built in the early 20th Century from Belgian brick combining French and Moorish architectural styles.
Any grant funding would go towards necessary maintenance for the modern buildings as well as preserving the 12th Century ruins.
Father Bell said: "The church on the site in particular is built by a monk architect, Dom Paul Bellot, and there's a really strong sense of presence of God in that church."