Grandfather murder plot girls sentenced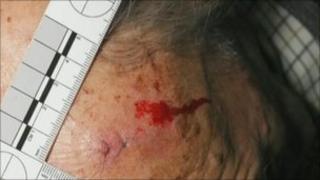 Two girls have been sentenced for a plot to kill their 89-year-old grandfather in order to obtain money.
The man was attacked by his adopted daughter, 49, her daughters aged 16 and 14, her son, 19, and his girlfriend, 17, near Winchester.
At Winchester Crown Court, the 16-year-old got 26-months' detention while the 14-year-old received a two-year youth rehabilitation order.
The 17-year-old girl involved was given three years' detention.
The victim's daughter is serving a 17-year jail sentence and her son is already in a young offenders institution.
Hit with bricks
None of the defendants, from Eastleigh, can be named because of legal restrictions.
The elderly victim, who suffered from dementia, lived with his wife at a bungalow in a village near Winchester, where he was attacked on 15 November last year.
During the six-week trial, the jury was told the man was lured outside his home by his daughter pretending to have fallen over.
He then was knocked to the ground by the son and hit with bricks by the two young girls.
He survived with cuts and bruises and was able to tell paramedics - called by his daughter - that he had been hit.
The family had also been running a campaign to try to scare the man to death by smashing a window at his home and even cutting the fuel line of his car in a bid to make it explode.
'Final act'
The prosecution said the attack was the final act to kill him for his money even though he had generously given cash for cars and horses for the family, which had been squandered.
In the weeks before, some family members researched how to kill him on the internet with Google searches such as "1,000 ways to die", "poisonous toadstools" and "easiest way to kill an old person".
The girls sobbed as their sentences were handed down.
Mr Justice Foskett described the three girls as "vulnerable" and under the influence of the mother, adding that they had acted out of "fear" of her.
He concluded by saying to the younger sister: "I express the hope that arrangements can be made for you and [the older sister] to maintain contact.
"You and she will probably need each other even more in the longer term than at present."
Sentencing the two adults last month, the judge called the attack "despicable and inhuman".
He said the plot and the attempts to kill the pensioner "will defy belief in the minds of any right-thinking person".
Four of the group were found guilty of conspiracy to murder at an earlier hearing, while the youngest girl was acquitted of that charge but convicted of wounding with intent.
The grandson is serving an indeterminate sentence.