Hampshire woman has part of limb artificially regrown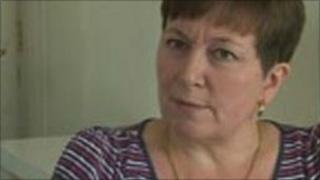 A Hampshire woman has become one of the first patients in the country to have part of a limb artificially regrown in a laboratory and put back in her body.
Liz Coveney, 50, from Hythe, had holes in the cartilage in her right knee.
She underwent two operations. Firstly a pea-sized piece of cartilage containing 200,000 cells was taken from her knee.
In a Belgian laboratory these were then grown into four million cells and placed back in her knee at Spire Southampton Hospital.
'Extremely uncomfortable'
Before the operations on the inch-long holes in her cartilage were carried out, Mrs Coveney was in constant pain and found it difficult to walk.
She said: "It was extremely uncomfortable and stairs really were the bane of my life.
"You notice it when you're standing up and sitting down, and getting out of the car.
"And it was getting worse and worse."
Mrs Coveney, who is three months into a 12-month recovery process, is now able to exercise and drive more easily.
She said: "I haven't got the crunching and the grating that I had.
"I can move my foot from the accelerator to the brake, in the car, without feeling any pain."
It is hoped the cells in Mrs Coveney's knee will continue to grow, and in time she will have the same procedure carried out on her left knee, which is also affected.
'Exciting time'
The body would not have regrown the cells without medical intervention.
This is the first time outside of clinical trials this procedure has been carried out at a private hospital.
It currently costs £18,000 and its availability on the NHS is limited.
As an area of medicine it was first broached in the mid 1990s, according to TiGenix, the biomedical company involved with "regenerative medicine".
It has now been granted authorisation as a medicinal product.
Philip Chapman-Sheath, Hampshire-based consultant knee surgeon, said: "I think this is a very exciting time.
"At the moment we're just doing the knee, but these sorts of technologies of using cell based therapeutical products, licensed by the European Union, could be expanded into other joints around the elbow, the shoulder, the foot and ankle and possibly even the hip.
"If we can start preventing some of these cartilage damage lesions turning into arthritis then perhaps we're on the first stage of actually reducing the development and spread of arthritis within a joint."