Dr Who star Matt Smith surprises Basingstoke school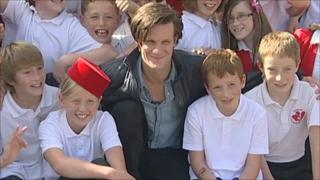 Doctor Who star Matt Smith surprised pupils at a Hampshire school by dropping in to thank them for writing a one-off episode.
The actor visited students at Oakley Junior School, Basingstoke, who were only expecting to see a preview of their three-minute show in assembly.
He said of the winning script-writers: "They did a brilliant job".
Four pupils from the school wrote the script as part of a competition set up by the writers of the show.
Smith, who will star in the episode called Death is the Only Answer, said: "What they've done with their imagination and their inventiveness is just remarkable.
"I think it was funny, well plotted, they got the tone and the madness of the doctor, they got the danger."
Katie, one of the school's 'scriptwriters', said: "It just feels amazing to know that I'm the youngest ever person to write a script."
The episode will be aired on 1 October on BBC Three.