New £5m King's Community Church opens in Hedge End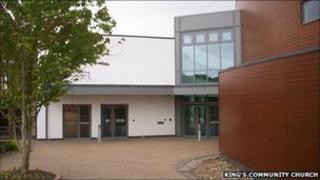 A £5m church, said by its supporters to be the largest on the south coast of England, is opening its doors in Hampshire.
The 1,300-seat auditorium for King's Community Church, Hedge End, opens on Sunday on the same site as the old building.
The evangelical church was established in a village hall in the 1970s and moved to its current site at Sovereign Place in Upper Northam Close in 1999.
In 12 years congregation numbers have risen from about 100 to 600.
'Contemporary' services
With the Church of England closing approximately 25 churches a year in England, Pastor Martin Dunsford attributes the success of Kings Community Church to its ability to meet the needs of the local community.
He said: "We preach the old gospel from the Bible but we make it relevant and contemporary, and we play contemporary music.
"There's also a huge social dimension to the church, meeting the needs of very diverse groups from the elderly to young children."
As well as church services the new building will also be used by community groups and provides youth and children's facilities.
The existing building will be used by the charity Care and Relief for the Young (CRY), and the church's charity SEED Fund, helping small businesses begin in developing and less developed nations.
Planning for the new auditorium started in 2007.
Mike McCarthy, project manager, has been a member of Kings Community Church since 1993 when it was on St John's Road.
He said: "It just suited my family, it was a lot freer and less regimented than the previous church we attended.
"Being involved with the construction of the new building has been an expression of my faith.
"Although it's an amazing building with great facilities, this is about the church as the people, not the building."
The church, near the M27 between Southampton and Portsmouth, now aims to serve the whole of the Solent area.
Mr Dunsford said: "The new building will enable us to gather a lot more people than we've ever previously been able to do.
"We will half fill the new church currently, but are looking to expand and grow.
"It will probably take a few more years to fill it."
At a cost of £5m the church has been criticised for not spending the money on people in need, said Mr Dunsford.
"When we built our initial church building we had an aim to give as much money to the poor abroad and in an international context as was spent on the actual building, and we managed to do that.
"We hope to continue with this work," he said.