Esso Fawley fined for Southampton Water toxic oil leak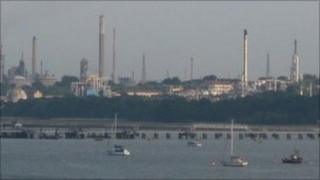 Oil giant Esso has been fined £10,000 after 400 gallons of oil escaped into a Hampshire estuary.
The company, which operates the Fawley refinery, earlier pleaded guilty to allowing vacuum gas oil to enter Southampton Water in June 2010.
The firm was also ordered by Southampton magistrates to pay costs totalling £2,586.
The Environment Agency, which brought the prosecution, said the estuary was "environmentally sensitive".
It said Esso immediately investigated after the oil was spotted near a vessel berthed at the terminal on 20 June 2010 - a small corrosion hole was discovered in the pipeline carrying the oil from the ship.
'Needless risk'
Some of the oil was reported on the eastern shore of Southampton Water between Warsash and Hillhead, the agency said.
No fish deaths or oiled sea birds were reported but the shell fishery was closed amid concerns about potential contamination.
An Environment Agency spokesman said Esso had put the estuary and the local environment at "needless risk".
Esso apologised for the leak and said it had spent £150,000 cleaning up the pollution after the incident.