Gosport to Fareham transit route ready early next year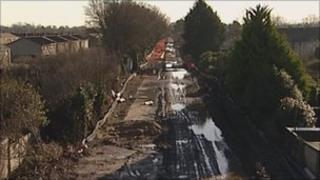 A £20m rapid bus transit route in Hampshire will be completed early next year, the county council has confirmed.
The Bus Rapid Transit scheme will link Gosport to Fareham along a disused railway line and is being funded by a government grant and the council.
Campaigners against the scheme say it will have a devastating impact on wildlife and have tried to stop it.
Planting and acoustic fencing has been installed on the route to reduce the impact on residents, the council said.
In January, a legal challenge over the construction of the scheme was rejected by the Supreme Court.
Campaigners, led by resident Vivienne Morge, argued the planning process had not considered the conservation of bats living near the route.
The council's legal bill is believed to be hundreds of thousands of pounds.
The route between Fareham and Gosport is a well known traffic bottle-neck and Councillor Mel Kendal said the new bus route would help ease congestion.
He said: "It's a big change for people to think about leaving their cars at home and using public transport.
"We know that in order to persuade people to use it we need to make this route, and the buses that run along it, a comfortable and attractive alternative to driving."