'Missing' D-Day shipwreck LCT 427 found in Solent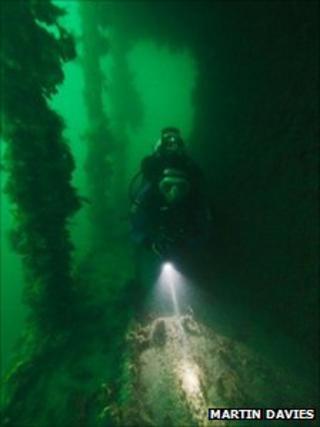 Divers have discovered the "missing" wreck of a British ship which sank with all its crew in the Solent while returning from the D-Day landings.
Landing craft LCT 427 was returning to Portsmouth in the early hours of 7 June 1944 having successfully delivered her cargo of tanks to Gold beach.
Just four miles from shore it collided with battleship HMS Rodney and was sliced in half. All 12 crew were lost.
Divers from Southsea Sub-Aqua Club have now located the two wreck pieces.
Alison Mayor, project leader, said: "It is such a tragic and sad story.
"The crew had made the crossing to France, survived the engagement with the enemy and successfully delivered the cargo of tanks - only to be lost in the dead of night, four miles from home and in collision with one of your own ships."
Busy shipping channel
Ms Mayor said that due to the scale and magnitude of the Normandy invasion the incident went unreported for two months and during this time the landing craft was reported as "missing".
The wreck was discovered at a depth of 30m (100ft) during Southsea Sub-Aqua Club's recent diving survey and historical research in the Solent area.
The two pieces lay upright several hundred metres apart in the busy main shipping channel approaching Portsmouth and Southampton.
This area is normally out of bounds for diving, but the club was given special permission by Portsmouth Harbour Master.
Ms Mayor said the wreck was in a "remarkable condition" complete with anti-aircraft guns and ammunition boxes.
There is a large capstan at the stern and, at the bow section, the landing craft door is open.
Ms Mayor said: "It is a real privilege to dive on a wreck especially knowing the circumstances of her loss.
"It's a very moving experience when you swim around the wreck, particularly the area of the break.
"All these years after, we can only just begin to appreciate the terrifying events of collision when you see the curled and crumpled metal at the break.
"We are very aware of the nature and circumstances of the loss of LCT 427 and her crew and have dived on the site with the respect it deserves.
"The rest of the wreck is remarkably intact and very atmospheric."
She said there were a large number of World War II wrecks along the south coast and many remained unidentified.
"Their story could soon be lost forever to the sea," she explained.
"Some of these wrecks have been dived for many years but it is only when you start looking at the story behind their sinking do you begin to appreciate their true historical significance."