D-Day landing veterans in last Hayling Island reunion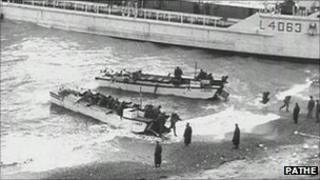 Veterans who steered landing craft on to the beaches of Normandy during World War II are due to hold what is expected to be their last reunion on Hayling Island, near Portsmouth, later.
Members of the Landing Craft Association have decided they are getting too old to continue meeting.
Reunion organiser and veteran Eric Round said: "I don't know how to put it, it's a sad, sad occasion."
About 250 veterans are expected to attend the reunion.
The servicemen, including many now aged in their 90s, carried out much of their training on Hayling Island, including the D-Day rehearsal for the UK troops landing at Gold Beach in Normandy.
Many of the men also took part in amphibious operations around the world, including large-scale raids and landings in Burma, north-west Africa and South East Asia.
Following a memorial service, the veterans will hand over the association's national standard which will go on permanent display in St Mary's Church on Hayling Island.