'Saxon' skeletons at Southampton building site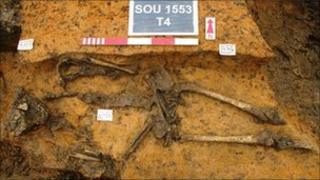 Archaeologists are studying nine skeletons discovered at a housing development site in Southampton.
The remains, believed to date to Saxon times, were unearthed in St Mary Street where Hyde Housing is building 13 affordable homes and a shop.
Excavations from May to August also unearthed a belt buckle, post holes and a ring ditch, indicating that there was a dwelling on the site.
Two of the skeletons were discovered in a double grave.
Andy Russell, of Southampton City Council, said the two people buried there may have died of disease.
He said: "It might be that some hideous disease came through Southampton at that time.
"We are having the bones looked at but things like plague and cholera won't show up on the bones."
The site is thought to have been the first cemetery of the old Saxon town of Hamwick, which occupied a site between 650 AD to 900 AD larger than the walled medieval city.
Samples of bone are to be sent for radio carbon dating to find out the age of the remains.