New Bishop of Winchester is the Reverend Canon Tim Dakin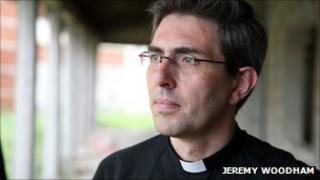 The new Bishop of Winchester will be the Reverend Canon Tim Dakin, Downing Street has announced.
Mr Dakin, 53, who is head of the Church Mission Society, will be consecrated in January.
He said: "To be asked to be Bishop of Winchester is an amazing privilege and presents me with a wonderful opportunity to serve in a new way."
Winchester's previous bishop, the Right Reverend Michael Scott-Joynt, retired in May after 16 years.
Mr Dakin, is also a member of the Church of England's ruling body, the General Synod, an associate priest in the parish of Ruscombe and Twyford in Berkshire and honorary canon theologian of Coventry Cathedral.
He becomes the 97th Bishop of Winchester, one of the most senior roles in the Church of England. The diocese covers most of Hampshire as well as Bournemouth and the Channel Islands.
"The Church of England is both fragile and robust. It's fragile because of all the change, yet it's strangely robust in the way we're imaginatively tackling new opportunities," he said.