Pilot who set 1,000mph jet-powered aircraft record dies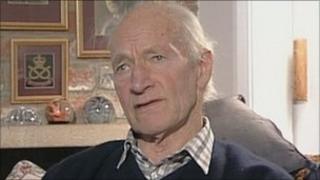 A former fighter pilot from Hampshire who was the first man to fly a jet-powered aircraft at more than 1,000mph has died aged 90.
Peter Twiss, from Fareham, entered the record books in 1956 when he flew the Fairey Delta II aircraft between two timing points on the West Sussex coast.
Six previous attempts at the record at Boscombe Down, Wiltshire, failed before he reached 1,132 mph.
Mr Twiss, who was also recognised for his wartime service, died on Wednesday.
The pilot, who went to school in Sherborne, Dorset, had been in the Fleet Air Arm during World War II.
He developed night fighter tactics, flying from Ford in West Sussex, before becoming a test pilot.
He later appeared in the James Bond film, From Russia With Love, piloting a speed boat, and in Sink the Bismarck! in which he flew a Fairey Swordfish.
He had been appointed OBE and awarded the DSC (Distinguished Service Cross) and Bar.