Rook salad off Isle of Wight pub menu on police advice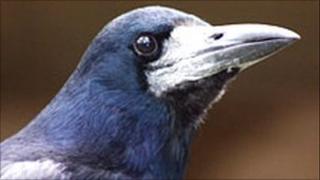 An Isle of Wight pub has stopped selling rook salad on police advice.
The Taverners gastropub, in Godshill, had sold the dish before the man who supplied the bird meat was arrested.
Hampshire police confirmed a 45-year-old from Ryde was formally cautioned for contravening the Wildlife and Countryside Act.
Natural England said: "We would not want to encourage their [rooks'] killing, purely to supply a demand for human consumption and trade."
The police investigation, helped by Natural England, found that the man had shot a number of fledgling rooks, before illegally selling them to a meat wholesaler who in turn sold them on to the restaurant for human consumption.
Advice letters were sent to the wholesaler and restaurant owner requesting that they immediately stop selling the wild bird meat.
Specials menu
Paul Cantwell, Natural England's species enforcement officer, said: "Under the provisions of a general licence issued by Natural England, it is legal to undertake control of rooks for certain purposes.
"It is also technically legal for people to eat the birds they kill under the licence, but it has never been legal to sell wild birds killed for human consumption, with the exception of the wood pigeon."
Manager of The Taverners Roger Serjant said the 30 portions of rook had been on the specials menu and proved popular, selling out in two nights.
"We are big on local food and look for old English, old fashioned recipes.
"From our part, they were bought in good faith. Obviously we won't be selling it again," he said.