WWII Arctic convoy memorial held in Portsmouth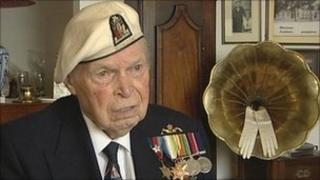 World War II veterans have gathered in Portsmouth to mark 70 years since the first Arctic convoy sailed for Russia.
Wreaths were laid at Portsmouth Naval Memorial on Southsea Common.
The Arctic convoys transported four million tons of crucial supplies and munitions to Russia between 1941 and 1945 to fight off Hitler's advances.
During the trips to ports in the Arctic Circle, 3,000 of their comrades died. Winston Churchill described the convoys as the most dangerous of the war.
The Dervish Convoy left for Russia on 21 August 1941. In the next four years 95 convoys ran in sub-zero temperatures to get war supplies to the Soviet Union while being under constant attack from the Germans.
Torpedo bombers
Commander Eddie Grenfell, 91, from Portsmouth, was on four of the convoys and his ship the SS Empire Lawrence, was blown up in 1942.
He said: "There were constant attacks. That would go on for about four or five days, non-stop, sometimes ten times a day.
"They were mostly dive bombers and torpedo bombers from the German bases in northern Norway, and sometimes the German surface fleet came out."
Arctic Convoy veterans are currently campaigning for a medal in recognition of their dangerous missions.
Speaking in January, Prime Minister David Cameron, said the veterans should get medals and the issue was referred to the Ministry of Defence.
Veterans and families attended the memorial, during which the Lord Mayor of Portsmouth, councillor Cheryl Buggy laid a wreath on behalf of the city.