Southsea developer avoids social housing policy with £600k offer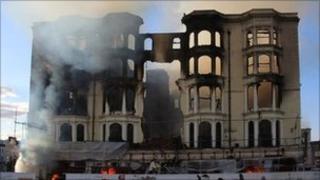 Portsmouth council has approved an offer of £600,000 from a property developer to allow it to build luxury flats but no affordable homes.
Pierfront Development has been given planning permission to build 92 apartments on Southsea seafront.
It said building an another 28 social housing homes would make it too costly.
The decision was criticised by a councillor who said the council was "putting profit before homes".
The apartments will be built on the site of the derelict Savoy Court in South Parade, which burnt down last week, and on the former Savoy Buildings site, which was demolished in 2009.
Portsmouth City Council has 2,500 people on its social housing waiting list and it has a policy requiring developers to provide 30% social housing.
Pierfront Development is paying the Liberal Democrat-controlled council £600,000 to get out of that obligation.
'Looks a mess'
Lib Dem councillor Steven Wylie said: "It's a great disappointment to those families who we've now got to go and tell: 'You're not going to have that home because we've put profit before homes'.
"I think it was a bad decision all round today."
However Conservative councillor Donna Jones said: "It's vital that this building is built and regenerated. It looks an absolute mess at the moment.
"We need jobs created on the seafront, we need cafes, restaurants, bars - we need people to come and spend their money in Portsmouth and this is the first step in that very, very vital picture."
Pierfront Development has paid for social housing elsewhere in the city in the past and increased its initial offer of £400,000 to £600,000.
It said the Savoy site project was not financially viable if social housing was included, but declined to comment further.
The council approved the application on the condition that it can review the decision in three years time if the development has not been completed.