Hounds for Heroes charity training new assistance dogs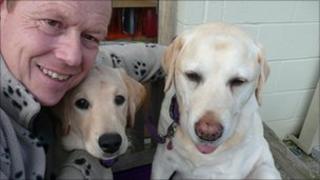 Five labrador puppies are being trained as assistance dogs for injured military and emergency service personnel at a new centre in Hampshire.
Hounds for Heroes has opened the complex at a warehouse near Petersfield.
The charity was set up by veteran of the first Gulf War, Allen Parton, whose assistance dog Endal helped him recover from a serious head injury.
It is also looking for ten sets of "puppy parents" to help train and socialise the dogs.
Mr Parton's injuries, suffered in a car crash while on service in 1991, left him partially paralysed with severe depression and amnesia.
He credits Endal as a "wonderdog" who helped get his life back on track. The pedigree labrador assisted with everything from taking money from a cash machine to helping his owner into the recovery position if he collapsed.
Endal died in 2009 but Mr Parton founded the charity, Hounds for Heroes, in his memory to provide training for dogs to help injured and disabled men and women from the armed forces and emergency services.
Among the new puppies in the centre, 12-week-old Rookie already obeys the commands to sit and stay.
Mr Parton said: "It's very rewarding, he is desperate to copy the older dogs already."
The charity is looking to recruit 10 sets of "puppy parents" to help train the dogs for 14 months before their specialist training with their eventual owners begins.
Mr Parton said: "Puppy parents will be the backbone of the organisation, they will socialise the dogs as well as take them to the weekly training sessions."