Portsmouth Blade student tower sprinkler plan reversed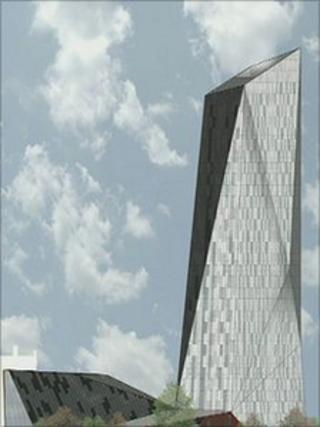 A 33-storey student accommodation block in Portsmouth will be fitted with a sprinkler system, following a U-turn by developers.
Fire chiefs had warned the decision to build the 110m (360ft) Blade without sprinklers would put lives at risk.
Following further talks, developers Watkin Jones said it was now making a commitment to fitting a system.
Hampshire Fire and Rescue's Mick Crennell called it a "fantastic outcome".
The service was originally told that sprinklers would not be installed in the 110m (360ft) building designed for the site of the former Victoria Baths in Portsmouth city centre. When built, it will house up to 600 students.
Developers Watkin Jones had insisted the design was "fully in compliance" with current laws as the building was classed as "Residential (Other)", akin to a hotel so sprinklers were not a requirement.
The decision was reversed following discussions with the fire service.
A statement from Watkin Jones said: "We listened to the valid points raised by the fire service and we have now decided to fit sprinklers in this iconic development."
Mr Crennell said: "The Fire Service are able to assist in the design phase of any project in order to help balance the business imperative with occupants' safety and this project clearly demonstrates the benefits that can be gained.
"We have learned much from this experience and are committed to assisting developers and businesses during difficult economic times. We can do this by working together more closely at an early stage," he added.
Hampshire Fire and Rescue said the service had tackled 80 fires in high-rise blocks in two years which led to the deaths of four people, including two firefighters at Shirley Towers in Southampton in April 2010.
It described students as a "high risk group" as 11 of the fires had been in student accommodation.