Hotel and flats evacuated in Southsea seafront fire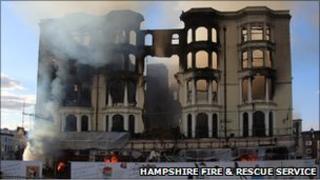 About 60 people were evacuated from a hotel and flats after a derelict seafront building in Southsea was destroyed by fire.
Up to 80 firefighters tackled the blaze at the Savoy Court in South Parade, Southsea, from 17:35 BST on Tuesday.
The building is unstable so will be demolished, a fire spokeswoman said.
Guests at the Royal Beach Hotel and residents from nearby flats stayed overnight in a rest centre set up at the Holiday Inn by Portsmouth council.
Firefighters remained at the scene overnight and were later replaced by relief crews.
A fire service spokeswoman said: "We can't leave the building because it's unstable. We need to demolish it under controlled conditions and crews will remain at the scene until this happens.
"It was a large fire on the second, third and fourth floors of the building but crews managed to stop it from spreading to a nearby hotel and residential proprieties."
It is not yet known how the fire started but an investigation will begin once the building has been demolished, she added.
Firefighters used two aerial platforms to extinguish the blaze, which was under control by 20:30 BST.
Portsmouth City Council is helping residents and hotel guests find alternative accommodation.
Hampshire Police said there was nothing to suggest the incident was related to the disorder seen across the country.
The building, which had housed a nightclub, is next to the former Savoy Buildings site, which was demolished in 2009.
The Savoy Buildings site is partly owned by former Portsmouth Football Club manager Harry Redknapp.