Library opened at former Southsea Woolworths store praised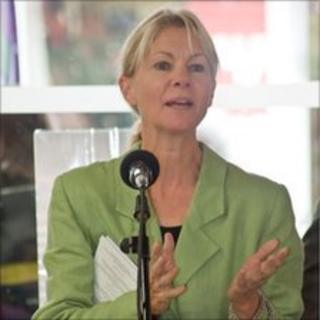 Leading literary figures have praised the opening of a new £1.5m library in Portsmouth.
International bestselling author Kate Mosse officially opened the new facility, built in an old Woolworths store, in Southsea.
The library also has a cafe - complete with a pick-and-mix box based on the old store favourite, internet facilities and customer service centre.
The site replaces a smaller library elsewhere in the city.
A council spokesman said the decision to take on the building was made before the Liberal Democrat-controlled authority announced £15m of cuts from its budget for the current financial year.
Portsmouth City Council leader Gerald Vernon-Jackson said: "When this old Woolworths building became available, it had been sitting empty for a year and we thought it's a wonderful space - much, much bigger than the old library, and in the right place."
Ms Mosse, who wrote Labyrinth, Sepulchre and The Winter Ghosts, said: "Here we have a library opening but there are still issues about cuts to the library service. On the Isle of Wight they are trying to cut almost all of the libraries there."
Author Alan Bennett said: "I rejoice that it is an opening and not a closing down. Hurray for the readers - whatever they're reading. Hurray for the librarians who watch over them."
Lee Hunt, council member for culture, leisure and sport, said: "At a time when many other councils are having to close libraries, here in Portsmouth we are investing in our library service.
"The new library is more than just a collection of books - it's an exciting environment to explore and discover, engage.
"I am sure it will become a vibrant, dynamic focal point for the local community."