Warships return to Portsmouth after six months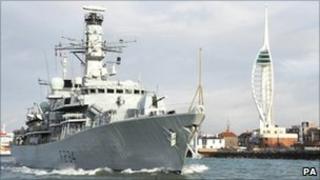 Nearly 500 sailors have arrived back in Portsmouth on board two warships after more than six months at sea.
HMS Richmond has been involved in anti-piracy operations off the Horn of Africa and has been as far as Brunei, Singapore and the Seychelles.
HMS Iron Duke's deployment included front-line action off Libya.
Its responsibilities also included protecting against piracy and terrorism and protecting Iraq's oil platforms.
In 2009, the 4,900-tonne HMS Iron Duke was involved in the largest-ever cocaine seizure by the navy.
The frigate was launched in 1991 and earlier this year was "affiliated" to the island of Jersey.