Isle of Wight library legal challenge blocked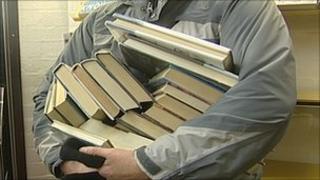 Campaigners seeking a judicial review over a decision to cut funding to the Isle of Wight's libraries have had their High Court challenge blocked.
Judge Pearl, sitting in London, ruled that the group had delayed too long in challenging the decision.
The challenge is one of several around the country to save libraries from local authority budget cuts.
Hearings over Gloucestershire and Somerset libraries are to take place later this year.
A ruling is awaited on libraries in Brent, north London.
The Isle of Wight hearing, led by Brighstone grandmother Serena Brunke, was over the council's decision to close five libraries on the island or allow them to be run by community groups.
Kate Markus, appearing for Ms Brunke, argued that, even if the libraries were transferred to community groups, they were in danger of failing through lack of funding or suitable volunteers.
'Long delay'
She also said the council had failed to consult properly and had not taken proper account of the disproportionate impact the closures would have on women and people with disabilities.
Rejecting the application, Judge Pearl said there had been too long a delay in launching the case.
Ms Markus said the delay was due to the Legal Services Commission taking too long to rule on whether Mrs Brunke should be granted legal aid.
However, the judge said the "excuse was not good enough".
After the hearing, councillor Barry Abraham, responsible for the island's libraries, said: "This decision means that we can focus all our efforts on helping support those community groups who are working so hard to establish community libraries."
In a statement, a spokesman for the Legal Services Commission said: "The LSC does not accept that delays on our part caused this claim to fail.
'Community contribution'
"The claimants' solicitors have been on notice since 6 April that a significant community contribution would be required for the case to proceed.
"The community contribution funding arrangement has not deterred the Brent, Gloucestershire and Somerset claims from being funded."
The Conservative-run Isle of Wight Council initially proposed closing nine of its 11 libraries as it tried to save £32m over four years.
Under the agreed proposals, libraries in Newport and Ryde will remain open.
Libraries in Sandown, Ventnor, Freshwater and Cowes will continue to be managed by the council for three days a week, with the intention of volunteers being drafted in to extend opening times.
Those in East Cowes, Bembridge, Shanklin, Niton and Brighstone have had their closure deadline extended twice, from April to the end of September, so groups have more time to develop proposals to take them on.