Libya rescue HMS York warship in Portsmouth homecoming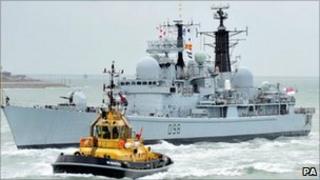 A Royal Navy destroyer has returned to its home port of Portsmouth after helping evacuate refugees from Libya.
HMS York has been on deployment for five months during which it also delivered aid to the war-torn country.
To mark its arrival the Type 42 fired a 15-gun salute and launched a fly-past by its Lynx helicopter.
The warship picked up 43 refugees, many of them women with young children and also oil field workers and evacuated them to Malta.
The ship left on 11 February and was on its way to Palmas, Gran Canaria, when it was diverted to collect medical equipment and tasked to take it to Benghazi port in Libya.
'Risen to challenge'
When it arrived, the warship's marines set up a cordon to allow lorries to take the aid to local hospitals and helped with the evacuation.
The ship then took up its original deployment and sailed to Gibraltar and Madeira before heading to the Falklands where it spent eight weeks patrolling the islands.
It also visited South Georgia for 12 days to support the British Antarctic Survey which is based in the area to conduct conservation surveys of the glaciers and wildlife.
Commander Simon Staley, HMS York's commanding officer, said: "This has been a really terrific deployment for HMS York.
"Over the last five months we have been called on to conduct an incredibly diverse range of tasks. There has never been a quiet or dull moment.
"I have asked much of my ship's company and they have risen to the challenge without fail.
"We are, of course, delighted to be home, back to our families and friends who have been nothing short of brilliant in their unstinting love and support for us whilst away."