Endangered lemur baby born at Marwell Wildlife park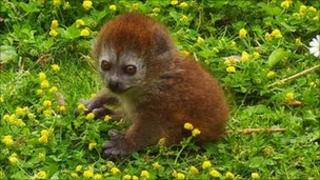 An endangered species of lemur has been born at a zoo in Hampshire.
The wild Alaotran Gentle Lemurs are only found inhabiting the reed beds around Lake Alaotra in Madagascar.
The new arrival at Marwell Wildlife adds to the park's five Alaotran Gentle Lemurs and the park's conservation breeding programme.
John Pullen, Marwell's curator of mammals, said 30% of the wild population of Alaotran Gentle Lemurs had been lost in the past five years.
He added: "The park's latest baby is now three weeks old and its mother, Lelafo, is beginning to leave the baby instead of carrying it on her back.
"The youngster seems to be doing very well and Lelafo is a great mum, who is very protective.
"We are uncertain of its sex at this stage because we keep our distance to make it as natural as possible for them.
"Once we know the baby's sex the animal keepers will find it a suitable Madagascan name."
The species is being threatened by habitat destruction as the reed beds where it lives are being burned and the lake drained for rice irrigation.
Lemurs are also caught for food as they flee from the fire and others are captured and sold as pets who rarely survive, Mr Pullen said.
They are classed as critically endangered by the International Union for Conservation of Nature and Natural Resources (IUCN).