Homes evacuated after Portsmouth garage fire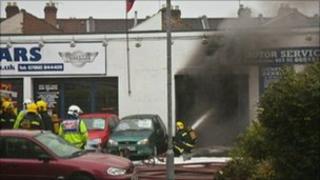 A number of homes were evacuated and a cordon was set up after a fire broke out at a garage in Portsmouth.
More than 20 firefighters were called to A2Z Motor Vehicle Service in Southsea, and people were told to avoid the Francis Avenue area, on Tuesday.
A 220m (656ft) cordon was set up over fears an acetylene tank at the site could explode, but it was later established it had not overheated.
A nearby rest centre was set up but residents were soon allowed home.
An investigation has begun into the cause of the fire.
Roads were closed but have since reopened.