Hampton Court Flower Show: Hampshire fungus wins gold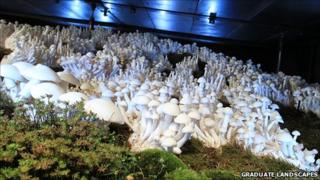 An underground garden of mushrooms developed by a Hampshire landscape designer has won an award at the RHS Hampton Court Palace Flower Show.
Landscape Obscured, by Daniel Lobb, from Andover, is thought to be the first fungus garden to be exhibited at the show.
Mr Lobb said the garden, which is viewed through periscopes, was "a fairytale forest."
It won gold and best in show award in the Conceptual Gardens section.
Mr Lobb, who works for Graduate Landscapes as well as teaching at the Arts University College at Bournemouth, said he was always fascinated by the form of fungus, but building an entire garden was "a bit of a risk".
During the two-week building process, about 30 tonnes of earth was removed to allow the underground landscape to be created.
It includes undulating banks and pools of water with mosses and small plants suited to the dark, damp conditions.
Eight van loads of mushrooms were grown on impregnated sawdust blocks by Hampshire growers Fundamentally Fungus and transported to the Hampton Court showground.
The garden looks like little more than a lawn from the surface, with eight periscopes allowing visitors to peer at the mushroom-covered landscape below.
Mr Lobb said: "People are initially a bit confused, then they gradually explore using the periscopes. It rewards curiosity.
"The gold medal is a really nice compliment. It's been a lot of work in getting the project together and keeping the standard up."
The edible mushrooms will be given away to visitors on the last day of the show on Sunday.