Southampton rubbish fire protest residents get warning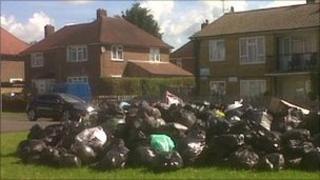 Residents in Southampton who threatened to burn their rubbish in a protest over council bin strikes have been warned they would be breaking the law.
Some residents in Regents Park Road had planned to close their street for a bonfire on Friday.
The protest was cancelled after letters from the police and council were sent warning residents of the dangers and legal implications.
About 300 city council workers started a week-long walkout on Tuesday.
Refuse workers, street cleaners, parking attendants and toll collectors have all taken part in strike action since May, resulting in rubbish piling up in the streets.
Residents are angry that their rubbish has not been collected.
Strike extended
The letter, from Hampshire Constabulary, Hampshire Fire and Rescue and Southampton City Council, read: "We fully understand public frustration caused by the accumulation of household waste as a result of the current industrial action, however we feel it is important to point out to you that we are very concerned that this event has serious public safety implications for residents and other road users."
The letter warned that permission had not been granted to close the road and any damage to road surfaces as a result of a fire amounted to criminal damage.
The council said it had received a formal notification on Tuesday that street cleaners would extend their strike until 12 July.
Refuse collectors are due back at work on Tuesday but will be working to rule.
Residents have been urged to take their rubbish to the tip in Endle Street, Chapel.
In February, Conservative-led Southampton City Council finalised budget cuts of £25m and said all workers earning more than £17,500, which is 65% of staff, would have their pay cut.
The council said the alternative was to lose another 400 staff on top of 285 cuts already announced.
During recent talks with unions, the council had offered that anyone earning £22,000 or less would no longer have their pay cut - but the negotiations broke down.