HMS Gloucester in final farewell in Portsmouth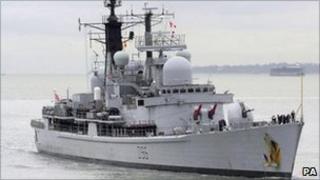 The Royal Navy destroyer HMS Gloucester was given a final farewell at a decommissioning ceremony at its home port of Portsmouth.
The ship is being put into retirement after 25 years of service.
It is the latest Type 42 destroyer to retire as the vessels are gradually replaced by the new hi-tech Type 45s.
It has clocked up 787,928 miles and holds the record for the first successful engagement of a missile by another missile in combat at sea.
Prayers were said at the service, which was attended by the ship's sponsor the Duchess of Gloucester.
Commander David George, Gloucester's commanding officer, said: "This is a sad day for everyone who has known and loved HMS Gloucester, but we are really seeing her off in style.
'The Fighting G'
"The Duchess of Gloucester lent us her support yet again, and we were also joined by the two surviving veterans of the World War II HMS Gloucester - which was fabulous - and all our own former ship's company and their guests.
"You could feel the affection in the air, and it has been a wonderful way to bid farewell to a fine and brave lady, who is going out with real dignity."
At the time of its launch in 1982, Gloucester, which was built by Vosper Thorneycroft at Woolston, Southampton, was the longest vessel built at the shipyard since the World War II.
Nicknamed "The Fighting G", the ship's most notable action came in January 1991 when it escorted American battleship USS Missouri close to the Kuwaiti coast during the Gulf War.
As the Missouri came under attack by an Iraqi Seersucker missile, HMS Gloucester fired a salvo of Sea Darts to knock it from the sky in what proved to be the first validated, successful missile-versus-missile strike of its kind.
The ship was also involved in evacuating British nationals during the Israel-Lebanon conflict of 2006, making three round trips to carry Britons to safety from Beirut to Cyprus.