Swimming pool used to tackle fire at Fordingbridge house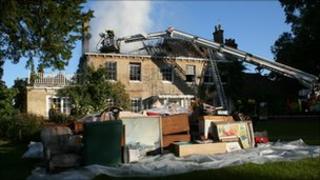 Firefighters used water from a swimming pool to help put out a fire at a country house in Hampshire.
They were called to the property in Tinkers Cross, Fordingbridge, in the early hours after the roof had caught fire.
The first floor was badly damaged but much of the contents from the house were salvaged.
Two people were treated at the scene for smoke inhalation. It is not yet known what caused the fire.
Kevin Evenett, Hampshire Fire and Rescue's officer in charge, said: "On arrival, the initial crews were faced with a very difficult fire in a large older building with several different roof structures.
"As this incident was in a remote location with scarce water supply crews used a swimming pool as a water supply.
"This would have no doubt been much more damage had it not been for everyone's hard work."