Southampton strike: Street cleaners extend walk out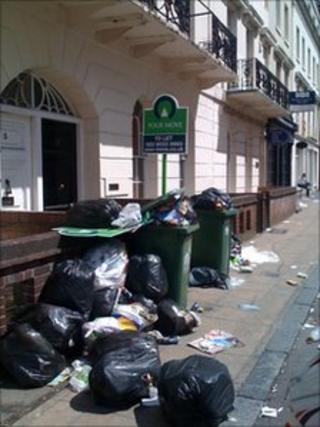 Southampton's street cleaners have said they will extend a strike for a further week in a protest over cuts to pay.
About 300 council workers started a week-long walk out on Tuesday.
Binmen, street cleaners, librarians, toll collectors and parking attendants began action in May over proposed changes to their contracts.
Conservative-led Southampton council said the alternative would be another 400 job losses on top of 285 already announced.
More than 20 hours of talks between council leaders and public sector unions with the government reconciliation service Acas have broken down to try to end the dispute.
Urgent collections
Council bosses said unions rejected an offer which would see more than half of staff receive no reduction in pay.
Unison and Unite said the council refused to withdraw dismissal notices for staff who would not sign a new contract by 11 July.
The council said it received a formal notification on Tuesday that street cleaners would extend their strike until 12 July.
Large bins have been put in the city centre and two shopping precincts in an attempt to limit litter.
Two bin lorries have also been contracted to pick up bin bag build ups in the most "urgent areas" of the city.
Binmen are due back to work on Tuesday but will be working to rule.
In February, councillors finalised budget cuts of £25m and said all workers earning more than £17,500, which is 65% of staff, would have their hours cut - resulting in a loss of pay.