Southampton council and union strike talks break down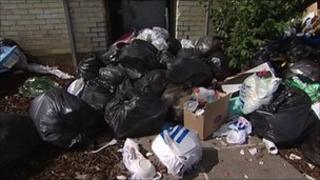 Talks between Southampton council and public sector unions to end strike action over pay cuts have broken down.
Bosses said unions rejected an offer which would see more than half of all staff receive no reduction in pay.
Unison and Unite said the council refused to pull dismissal notices for staff who would not sign a new contract of terms and conditions by 11 July.
Binmen, street cleaners, parking attendants and toll collectors have all taken part in strike action since May.
Some residents have waited more than a month for bin lorries to collect rubbish from outside their homes.
Although binmen went back to work on Wednesday, a union work to rule enforcement means only rubbish in bins will be taken away.
'Mass dismissal'
In February, councillors finalised budget cuts of £25m and said all workers earning more than £17,500, which is 65% of staff, would have their pay cut.
The Conservative-run council said the alternative to pay cuts was to lose another 400 staff on top of 285 already announced.
Both the council and unions have spent more than 20 hours in talks with the conciliation service Acas.
Councillor Royston Smith, council leader, said he was "very disappointed" at the breakdown in talks.
"As part of a raft of proposals anyone earning £22,000 or less would no longer have their pay cut," he said.
"In addition we have committed to a review of all terms and conditions changes within two years in consultation with the unions.
"We see this as an exceptional final offer and remain ready to continue talks at anytime."
Unison branch secretary Mike Tucker hit back at Mr Smith's comments and said workers' pay would be frozen for three years.
"The council's decision to proceed with the mass dismissal of council workers will not go unchallenged," he said.
"Southampton City Council is the only council in the country taking this approach.
"The Conservative administration needs to pull back from its confrontation with the workforce".
A new week-long strike is planned for Tuesday, when librarians will also walk out.