'TT' motorcycle race campaign starts on Isle of Wight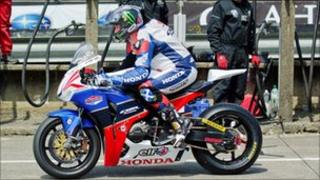 Motorcycle enthusiasts have started a campaign to bring TT-style road races to the Isle of Wight.
The proposal is to create an event similar to the TT "tourist trophy" races run on the Isle of Man.
The annual Manx festival attracted 37,000 visitors and generated £20m of income this year.
Campaigner Kara Rann said: "When you see the passion and enthusiasm, it's something the Isle of Wight is missing out on and it would certainly benefit".
A Facebook page set up by the campaign attracted 425 supporters in 36 hours.
The group has identified possible race routes which "avoid any villages" and plans to approach the council for backing for the idea.
'Considerable obstacles'
Parliamentary approval is currently required to allow local authorities to suspend the Road Traffic Act for high speed road races.
Campaigners are pinning their hopes on the ongoing government consultation over deregulating the process.
The Isle of Man races began following special legislation on the island over 100 years ago.
Tim Glover, sports editor on Manx Radio said: "There are considerable obstacles which would need a lot of political goodwill if it was to get off the ground on the Isle of Wight."
The idea has drawn mixed opinions on the island.
Jackie Parry, a tourist guide, said: "Anything which brings business to the Isle of Wight is great, but the state of some of the roads is a concern."
With three competitors and four motorcyclists killed during this year's Isle of Man TT festival, Ms Rann insisted health and safety was paramount but admitted that accident levels may deter people from road races.
She said: "It is part of road racing and riders and spectators know the risks."
Councillor George Brown, Isle of Wight Council deputy leader said "We would be happy to consider any proposals for high profile events that would extend the island's tourist season and make a meaningful contribution to the island's economy without compromising the island's natural beauty and charm for which it is famous."