Southampton children's heart unit: Petition delivered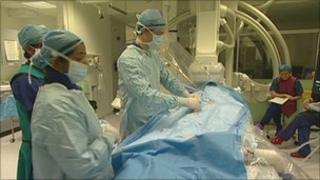 Campaigners are delivering a petition to Downing Street aimed at saving the children's heart surgery unit at Southampton General Hospital.
About a quarter of a million people have signed the petition opposing the closure of the Ocean Ward.
An NHS review has recommended there should be fewer, larger centres and proposals are being discussed.
Only one of four options being considered would lead to Southampton staying open.
The NHS recommended a minimum of four surgeons per unit which means at least four out of 11 hospitals will stop operations.
There are about 30 child heart surgeons across England who carry out 3,600 operations each year.
Southampton has been rated as the best outside London and carried out more than 330 operations in the last year.
Sam Prior, from Locks Heath near Southampton, and her nine year-old son Aaron, who has had a number of operations at the unit, are among those travelling to London.
Mrs Prior described the 225,000 signatures on their petition as "fantastic".
She said: "The unit doesn't just take in children from Southampton, it takes in children from as far afield as Plymouth, Brighton, up to Salisbury, Exeter, Bath and across the south east coast.
"All of these people are so passionate about the service and the quality of care they get at the Southampton heart unit that they want to do everything they can to support it.
"Why would you want to get rid of the second best children's heart unit in the country?", she added.
Opponents also say that if the unit closed, patients on the Isle of Wight would have to travel even longer than the maximum three hours to a specialist unit which the review recommends.
Three of the four proposed options would see the unit at Southampton close.
Units in Bristol, Birmingham and Liverpool would be retained in all options, with Newcastle included in three of the scenarios, and Leeds and Leicester in one each.
Jeremy Glyde, programme director for NHS safe and sustainable, said: "We welcome the fact that people are getting involved in this important consultation and having their say. Everyone's view will be considered before final decisions are made.
Mr Glyde said support for having fewer larger children's heart surgery centres, among organisations including the British Heart Foundation, the Royal College of Surgeons, "remains very strong".
After the consultation period, which runs until 1 July, Ipsos Mori, an independent third party, will carry out a detailed analysis of all feedback.
The findings will be published in a report to help inform the Joint Committee of Primary Care Trusts before a final decision is made in autumn.