Island Games stages Notting Hill-style carnival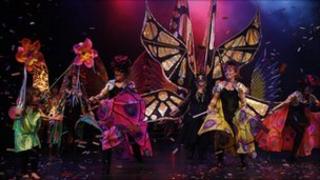 The Island Games will open at Ryde, Isle of Wight with a Notting Hill-style carnival through the town's streets featuring 1,500 performers.
The parade will tell the story of the Isle of Wight in 20 sections - from the dinosaurs to its carnival traditions.
The procession will escort the 4,000 athletes to the opening ceremony of the six-day games which see 24 islands around the world compete in 14 sports.
London 2012 chairman, Lord Coe is set to open the event on Saturday 25 June.
The opening ceremony will conclude with the swearing of the Island Games oath and the water ceremony, shown on two large screens.
The island has a long history of carnivals with the first held in 1887 in Ryde for the Jubilee of Queen Victoria.
It holds an average of 18 parades each summer and up to 10 winter carnivals and lantern parades.
The costumes for the evening parade have been designed over the past year by 800 students from 56 island schools at the state-of-the-art carnival centre in Ryde.
The two-hour procession features huge articulated puppets including 'flying' pterodactyls on stilts, giants and crusading knights.
Isle of Wight Island Games Association chairman David Ball said: "The island community has taken the games to its heart, particularly the schools."
The sculpture for the water ceremony and been created by Ventnor-based artist, Paul Sivell.
An integral part of the opening ceremony, it involves a representative from each of the participating 25 islands who add water representing their island into a vessel.
Carved from island oak, the 1.8m high piece depicts two hands holding a bowl sculptured from beaten copper. It sits on a base carved into the shape of the Isle of Wight.
Glass medals
A glass-maker on the island has produced 1,800 hand-made medals for the games' competitors.
It is the first time glass medals will be presented at the international event. Half a ton of glass has been used to produce the shatterproof medals.
A record number of athletes have registered to take part in the games.
About 3,500 participants will compete in the biannual event which opens on Saturday until 1 July and is seen as a mini-Olympics.
Mr Ball said: "The 2012 organisers are using us as a dry run, 80% of our officials are officials that will be in London next year."
Of the 3,500 participants, the host island has the largest team with 316 athletes set to turn out.
Guernsey has the second biggest team with 296 athletes, while Jersey is third with 282.
Of the 25 member islands, 24 will attend the event, making it the largest multi-sport event in Great Britain this year.