Warship HMS Illustrious starts sea trials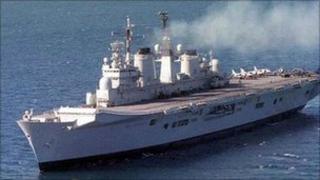 The Royal Navy's last operational fixed-wing aircraft carrier has begun sea trials following a £40m upgrade to convert it into a helicopter carrier.
The 20,000-tonne warship is now capable of carrying a force of up to 20 helicopters and 600 personnel following the refit at Rosyth dockyard, Fife.
It will return to its home base of Portsmouth in July after the trials.
Illustrious will take over from HMS Ocean when it goes for a refit, due for completion by 2014.
When Ocean returns, Illustrious will be withdrawn from service following the exit of its sister ships, Invincible and Ark Royal.
Anti-torpedo system
Upgrades include the installation of a new computer and communications system and a defensive anti-torpedo system, and improvements to the living conditions.
The ship will now undergo a further five weeks of sea trials off the Scottish coast before returning to the fleet at the end of July.
It is the fifth warship and second aircraft carrier to bear the name Illustrious, and has participated in most major UK and Nato campaigns during the past 15 years, including the first Gulf War, the Sierra Leone evacuations and the war in Afghanistan in 2001.
Commanding officer, Captain Jerry Kyd, described it as an "historic day".
"We are in top condition for the challenges ahead thanks to the hard work of my sailors and the successful partnership that we have had with industry," he added.
"We are now raring to go, ready to take this great ship to sea for trials, and then home to Portsmouth, where we will prepare for her exciting future role."
Invincible was towed away earlier this year to a scrapyard in Turkey after being sold on Ministry of Defence auction website edisposals.com.
The same website is currently being used to sell Ark Royal which was decommissioned earlier this year after being axed in last year's Strategic Defence and Security Review.
The first of the new super carriers, HMS Queen Elizabeth, is due to enter into service in 2020 with the second, HMS Prince of Wales, expected to be kept in a state of "extended readiness".