Painting on taxi roof shows firefighting in the Blitz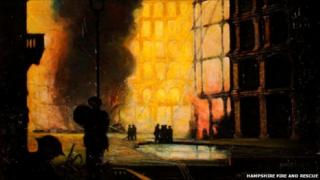 A 71-year-old painting of the London Blitz hangs in the headquarters of Hampshire Fire and Rescue in Eastleigh.
The 2ft (0.6m) by 2.5ft (0.7m) work, A Quiet Corner of London, shows firefighters during the German bombing of the capital in 1940.
It is believed the painting was done on the canvas roof of a taxi cab which had been badly damaged by falling debris.
Black cabs were requisitioned as mobile fire engines during the Blitz to ferry firefighters and tow trailer pumps.
As canvas was an expensive material to get hold of during World War II. The canvas roof of the cab was ripped out and used to paint the scene.
Contemporary record
It is thought the artist, whose identity remains unknown, would have completed the painting soon after the event, making it an important contemporary record of the scenes of devastation confronting his fellow firefighters.
Hampshire's former deputy chief fire officer Alan House said: "There were very few photographers on the scene at that time so these firefighter artists were very significant.
"The service was so short of firemen that people from all sorts of positions in life were drafted in and some of these were artists, like this person."
The painting was later anonymously donated to Hampshire Fire and Rescue.
It is part of a museum collection of fire fighting memorabilia at the brigade's Eastleigh headquarters which includes equipment dating back to the late 1700s.
The museum collection is not open to the public but can be viewed by appointment.
The BBC, in partnership with The Public Catalogue Foundation and collections across the UK, has launched the groundbreaking Your Paintings website.
Your Paintings will bring together all these artworks, with the stories behind them, and where to see them for real.