Family of Lorna Lambden in 24-hour Isle of Wight walk aim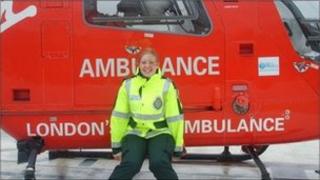 The family of a paramedic who died from an accidental overdose of sleeping tablets will aim to walk around the Isle of Wight in a day in her memory.
Lorna Lambden, 27, died in December after taking tablets she had bought through a website to help her sleep.
Her sister Heather Lambden, who organised the challenge, said Lorna had "achieved a great deal in her life" and was "very proud of her".
The walkers hope to cover the 100km of coastline anti-clockwise in 24 hours.
They aim to raise £1,000 for the London Air Ambulance and the Cowes RNLI boat house appeal.
Miss Lambden, 24, will be joined on the walk by seven others.
They include the women's father, Lorna's partner with their dog Oscar and work colleagues, including paramedic and island sailor, Seb Clover, who became the youngest person to sail single-handedly across the Atlantic.
'Very active'
Miss Lambden, who lives in the Isle of Wight, said her sister had always been adventurous and always ready for a challenge.
She said: "She liked to push herself. She was a very active, sociable person she did an awful lot with her time."
The team will tackle the walk in six stages, starting from Cowes to Yarmouth along the Isle of Wight coastal path.
To keep them going over the 24 hours, the eight walkers plan to tell jokes and give facts about the Isle of Wight every hour.
Miss Lambden, who is a crew member of the Cowes RNLI, said walking at night would be the most difficult part.
She said: "It will be the toughest bit, hopefully we'll get an early sunrise which will keep the moral up and we'll keep the jokes flowing."
Lorna who worked for the London Ambulance Service and was also studying for a masters degree, was nicknamed "Doogle" by her family.
"We're taking some pink ribbon with 'Doogles Dawdle' written on it so that we can tie little bits of pink ribbon, which was her favourite colour, around the walk to show where we've been," her sister added.
Miss Lambden, who lived in Hertfordshire, was found dead on 17 December 2010.
Last month, an inquest found that she had died accidentally, following a fatal overdose of Amitriptyline tablets.